From Cassel to Mont des Cats
The land alternates between flat and uphill and my electric bike will carry me for the best part of the afternoon to roam this range of mountains.
We decided to go to Cassel to the Mont des Cats, as the distance is reasonable and doable.
Leaving from the foot of Cassel, we will climb it at the end of the ride, like a final reward or a last challenge.
We left from the foothills of Cassel, between Sainte Marie and Saint Sylvestre via the countryside, and we went up and down. We were in a bucolic landscape, scattered with pastures where Rouges Flamandes, a local cow breed, were grazing.
We turned off towards Eecke, and we activated the power assistance, followed by a little break at the foot of the Klockhuis. We continued towards the peak of the Mont des Cats and its Trappist Abbey. The small roads meant that we could avoid traffic. We soon reached Godewaersvelde, and we climbed up the mount via the Rue de l'Abbaye, which is steep for sure, but with the electrical assistance, it was fine; without forcing too much on the pedals, the ascent is easy.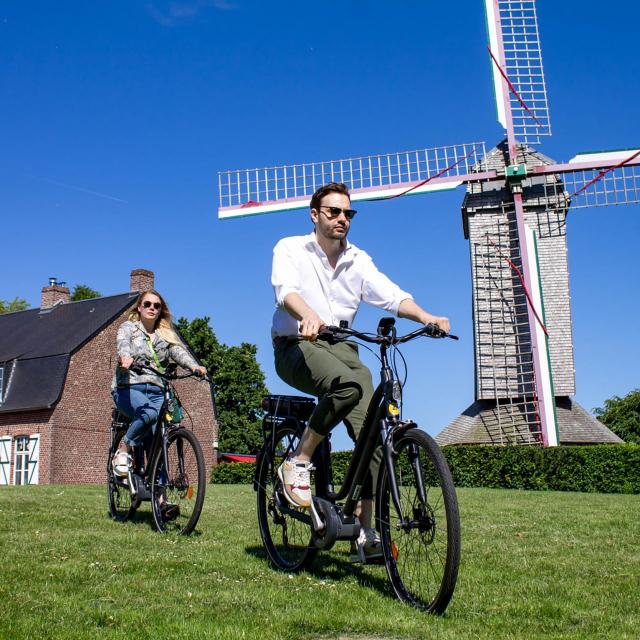 From Boeschèpe to Terdeghem
We then joined the route de l'Abbaye to finish the last few hundred metres and then stop, content in front of the wonderful panoramic view from the mount over the Blootland. At the top of the mount, we were standing on several millions of years of geologic time.
The descent is always a pleasant moment, especially with such a grand décor. We went through Boeschepe, a break at the windmill to admire it before heading towards Steenvoorde. On our way back from our trip with the Mont Cassel as the focal point, the batteries were still charged, so there were no worries there. If necessary, we could have gone to an Accueil Vélo to charge them.
Our itinerary took us towards Terdeghem, followed by the hamlet of Le Coucou, and we could feel the mountainous relief beneath our tyres and our calves! We tackled Cassel via the route de Dunkerque. Before that, we went past the Recollets gardens, and for a few hundred metres, the road was winding like in the mountains and I felt like I was in Les Vosges or le Jura.