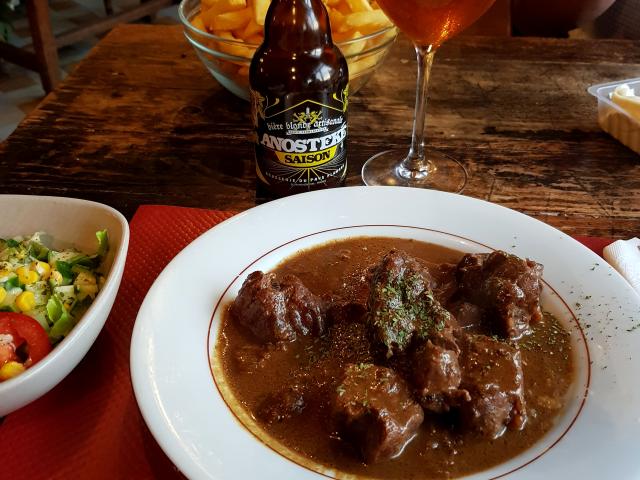 The story
What is an estaminet
The word estaminet used to be defined as a place where you could drink and smoke. At the beginning of the 19th century, in Flanders, it was the meeting place par excellence where the people of the village met to enjoy a good beer, chew tobacco at the counter, play traditional games… In short, you You understood correctly, the estaminet is the cradle of conviviality. Today, we recognize an estaminet by its characterful building, its rustic and typical interior decoration but above all, in addition to the fact that we can drink there, we now eat there.
Estaminets Flamands, why?
The "Estaminets Flamands©" brand, set up in 2017, brings together certified restaurateurs in Flanders who are committed to defending the Flemish identity. They become through this label "Ambassadors of the territory".
By working with local producers, they promote Flemish gastronomy and through their knowledge of the territory they highlight the local culture in a specific place where conviviality and gustatory pleasures reign. .Belonging to this network allows for a stronger identity
"Estaminets Flamands©" is a guarantee mark for the consumer but also and above all a source of pride and recognition for the restaurateur… "We are proud of this label which shines brightly on our facade".
100% estaminet
The Flemish estaminets© are estaminets having received the label for the recognition of their cuisine, their decoration, their conviviality. These are the typical places, where we share a generous and gourmet plate, where we feel good. It is these restaurants that nourish the body and the soul.
And not to miss anything...
Vous avez fait votre choix parmi les gourmands Estaminets Flamands ? Il ne vous reste plus qu'à réserver votre hébergement et à rêver à votre future soirée !
Carbonnade
Beef, cooked in a sauce made from beer and brown sugar or gingerbread depending on the recipe.
Potjevleesch
"Petit Pot de meat" is a dish made up of several white meats, served cold, in jelly and with fries.
Welsh
Not quite Flemish, but widely adopted, it's a gratin dish made with bread, ham and cheddar.
Billard Nicolas
The goal of this game is to drop a ball into the opponent's camp using a pear that blows air. It also allows you to defend your camp.
La grenouille
Throw pucks into the frog's mouth to earn the most points.
Face Trappe
Throw pucks into the opposing camp using a rubber band. The first to run out of pucks wins!
Other ways to enjoy Destination Coeur de Flandre