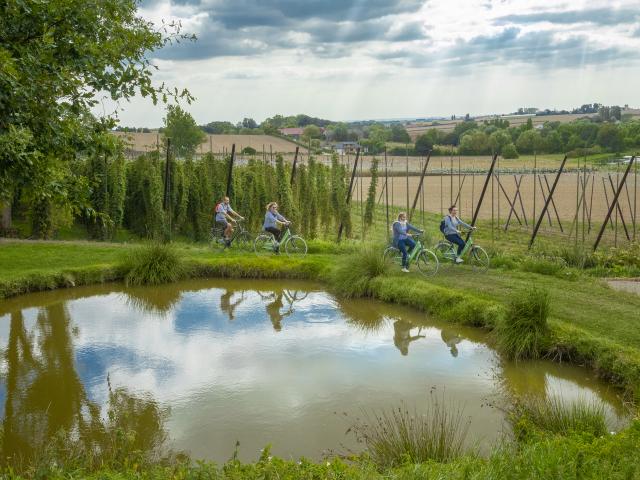 The story
Flanders, land of cycling
Flanders, land of cycling. This is a well-known and especially recognized adage! The unevenness of the mountains, the paved roads, the panoramas bathed in soft light, these are so many assets that make Destination Coeur de Flandre one of the favorite spots for all cycling enthusiasts.
On the adrenaline side, fans will appreciate the major sporting events, where champions compete in courage to face the Flemish roads.
On the leisure side, the network-points nodes, the Accueil Vélo, the equipped areas, a whole range of offers is intended for you to facilitate the practice of cycling with family or friends.
Whatever your level, whatever your goal, your bike will fall under the spell of Flanders and so will you. On the way !
100% cycling
On the way ! With the network of nodes in your pocket, set off to conquer the Monts de Flandre! Splendid panoramas await you.
Summer cross-border rallies
From Coeur de Flandre to Heuvelland
From July 1 to October 2, criss-cross Flanders on both sides of the border. Look for the clues, put the photos in order.
Two circuits await you: 33 or 41 km, between Coeur de Flandre and Heuvelland. All you have to do is pick them up at one of our tourist information offices and then find the right answers. The luckiest will win a nice Flemish gift!
And not to miss anything...
Other ways to enjoy Destination Coeur de Flandre